---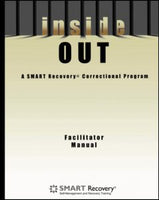 SMART Recovery InsideOut is a cognitive-based (CBT) program for inmate substance abuse treatment in correctional settings and is based around the 4-Point Program of SMART Recovery. The primary goal is to prevent offender recidivism through a carefully designed and scientifically-based program.
The Starter Kit includes:
Facilitator Manual
Facilitator Training DVD
10 Participant (Inmate) Workbooks
Participant (Inmate) Training DVD
This kit includes the materials to conduct 36 SMART Recovery InsideOut meetings for up to 10 participants.  Additional InsideOut Workbooks are available.
Female Version